http://ntm.blogs.cnn.com/2008/08/05/lovin-touchin-squeezin-news-to-men-with-journey/
August 5, 2008
Taking the stage with Journey!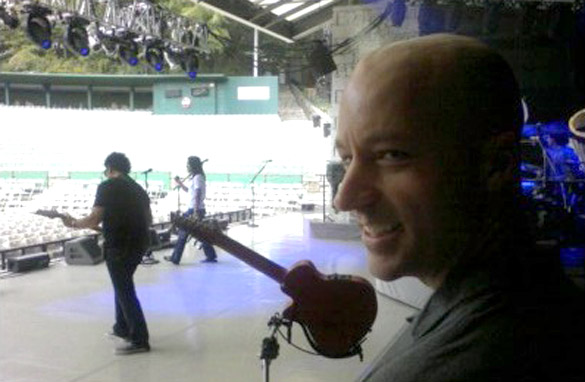 in the picture above: Eric can't believe he's on-stage with Journey's Neal Schon and new lead singer Arnel Pineda
Sunday night had to be one of the coolest shoots we've ever done… at least for a group of "30-somethings" with fond horribly awkward memories of middle school dances, parachute pants, sleeveless graphic tees, and haircuts that can only be called the "feathered - butt cut - mullet"!
That's right people! We shot the Journey concert!!!
You may wonder why we were there in the first place. They have an amazing story to share! One of the most successful bands in the history of rock & roll found their new lead singer on YouTube!
Yeah, I know right! We had to find out how and why!
And if you think this is just one more old rock & roll band trying to make a lame comeback, I urge you to THINK AGAIN! Journey BROUGHT THE HOUSE DOWN!!!
And guess what? Apparently Atlanta rocks harder than any other city they've been to! Who knew?
Band members Neal Schon, Jonathan Cain, Ross Valory, Deen Castronovo, and new frontman Arnel Pineda (check out Arnel's cinderella journey from the Philippines to lead singer of one of the most iconic rock bands ever!) did not disappoint the fans.
The Journey songs you remember from the radio SOUNDED JUST LIKE the Journey songs you remember from the radio - BUT LIVE!
And while these guys had long since achieved "rock idol status" they are still the most down-to-Earth guys and made us feel comfortable and welcome.
That goes for their production manager Tim, their manager John, and all the "roadies". Y'all rocked too!
They gave us unlimited access backstage, from the dressing room to the catering, and even allowed us to shoot on-stage during the whole show! (That never happens!)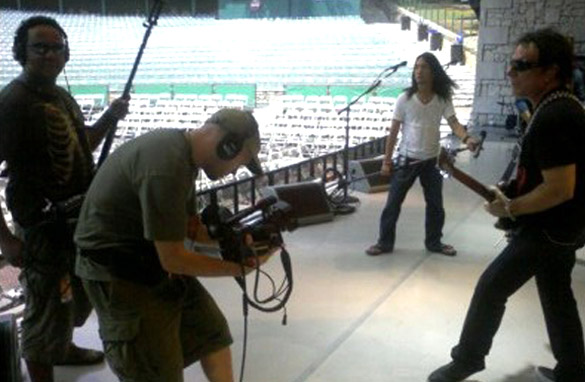 in the picture above: Teague and Gerald shooting sound check as Journey's Neal Schon and Arnel Pineda try work out the kinks… THERE WERE NO KINKS!
Check out Eric gushing as Jonathan Cain gives him the history of Journey's best balads and how they came to be PLUS the rest of our "journey" with Journey!
So after shooting the sound-check, sitting down with the band, there we were, backstage with our "all access" bad-selves, seconds away from watching friggin' Journey take the stage!!!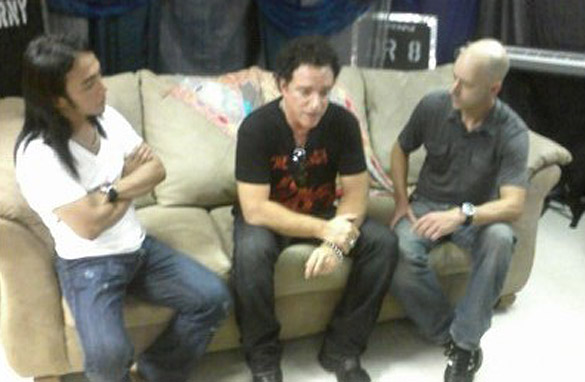 in the picture above: Eric backstage with Journey's Neal Schon and Arnel Pineda
Seriously, the energy at Chastain Park Amphitheatre (GREAT VENUE!) was incredible! They came out huddled, up off-stage, put their hands together, and with a rowsing yell the band headed out on-stage and got the music going before Arnel's crowd-electrifying entrance!
And in between all the songs I knew and loved and the new songs that are "classic Journey" came all these thoughts about what we were witnessing…
You know what I love most about Journey is the fact that they were there for the birth of the "MTV generation" and while the music industry has changed drastically, music television has no more music, and old bands have tried to reinvent themselves for the times… Journey has remained true to themselves and more importantly, their fans whose own memories live in their songs.
The only thing that's changed about Journey are the tools (Journey on MySpace - Journey in Second Life) they use to continue making the music that made them famous.
And as quickly as our day with Journey started, it finally ended with us on-stage in the wings, as Journey played on… "One night will remind you - How we touched - And went our separate ways…"
DON'T FORGET TO WATCH OUR "JOURNEY" WITH JOURNEY - THIS SATURDAY & SUNDAY 7:30PM - 9:30PM - 12:30AM - 5:50AM ET ON CNN HEADLINE
NEWS!
Posted by: Producer Aaron Rustom
Filed under: Behind the Scenes • Extras • Shoots